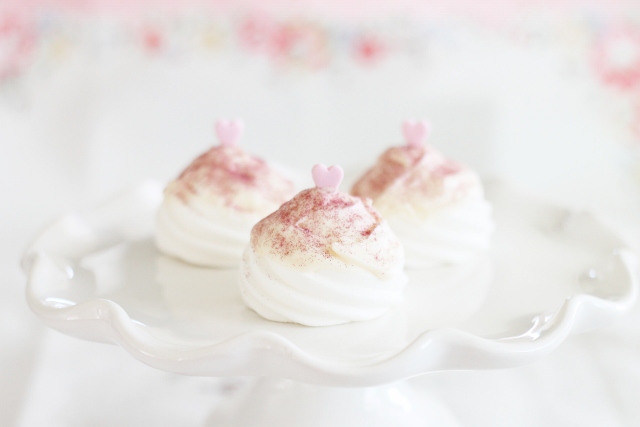 I was gushing when Gillian sent the photos through of this sweeter than sweet DIY for valentines day. I confess, it has been a while since I have spoiled my taste buds to the sweetness of a meringue and I dare say, when I finish this little blog, I will be off to my kitchen to bake…its been a while and I could do with the 'therapy' of making something for my little Valentines Lily and Oscar….and I dare say, neither of them have been treated to a Meringue before…that I know of! Maybe I should post them both up to Gillian's place for a week…let her spoil them with her amazing sweet delights, it would certainly be a credit in the book of life experiences 🙂
Meringue
Ingredients:
4 egg whites (room temperature)
Pinch of salt
220g caster sugar
125g white chocolate
Edible glitter (optional)
Small amount of fondant or shop bought sugar hearts
Method:
Place egg whites and salt in a clean bowl.  Beat with electric mixer until soft peaks form.  Gradually add sugar a tablespoon at a time.  Once the final spoonful has been added continue beating for 3 minutes until sugar has dissolved.  The best way to check if sugar has dissolved is to rub a little of the mixture between your fingers.  If it's grainy, continue to beat for an additional minute.
Line a tray with greaseproof paper.  You can pipe or spoon the mixture onto the tray.  Leave a  2cm space between each meringue.
Bake in oven for 1 ¼ hours, at 100 degrees celcius.  Allow to cool in oven.
Melt white chocolate in microwave in 30 second intervals, stirring after each bust until completely melted.  Dip the tip of each meringue into the chocolate and sprinkle with edible glitter (any sprinkles would be fine)
Finally top with small fondant hearts or the sugar ones found in the supermarket.
Follow Gillian's sweet creations and fabulous styling on Facebook: http://www.facebook.com/crumbsofcomfortcakedesign?fref=ts