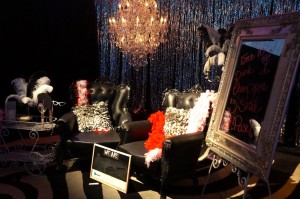 Well, indeed I know some Wedding Industry Fabuloso's will not be up this early in the morning after Inlighten Photography threw their big party at the Ivy in Sydney last night. It as a night of the Who's who on Sydney's wedding scene to get together, network and kick up their heels with a fun series of photo booths decorated for some Instagram play….don't you just love it!!?
Last week my gorgeous friend Gerard from Fabmosphere asked me to join him in creating a booth. We love a little glam, so decided the The Great Gatsby was the best way to add a little sparkle to the show!
Gerards gorgeous lounges were backed by a silver slit drape and we even managed to get the very same feathers that were used on the set of Baz Luhrmann's film! The drinks trolley played its part in carrying the costumes and the most gorgeous Silver Mirror graffiti'ed in red lippy lead the way with the message to Drink Champagne and Strike a Pose! I must confess I nearly fell off my chair when two handsome lads arrived with the HUGE chandelier that Gerard sourced which could have almost stole the show!