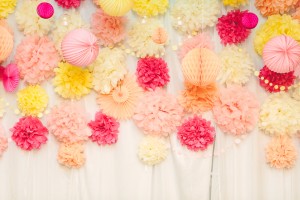 May saw the welcome of Winter in Sydney, but not for Beautiful bride Katrina and her Beau Erick. With their wedding booked in the Opera House Marquee, Katrina and Erick were looking to inject some warmth and colour in their wedding venue with beautiful paper decor.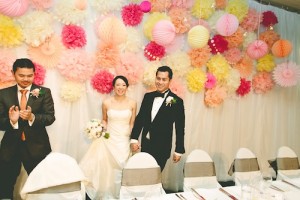 The result was a backdrop behind the bridal table, equalling nearly 15 square metres. The installation was a range of handcrafted pom poms and garlands along with honeycomb balls, honeycomb fans and gorgeous lanterns, layered with a 3 dimensional aspect. Small glass candle holders were also strung in the foreground for the special touch of twinkling magic.
The gift table also saw a smaller installation of the paper decor to further theme the room.
In the ceiling we strung two large chandeliers decorated with pom poms and glass candle holders.
The installation was a team effort of skill with concept, design, styling and installation by Penny Lane Studio and Fabmosphere.
Photo Credits: www.weddingsbymorris.com.au